Sue Moreno passionate vocalist, songwriter and performer
We've come to know Sue Moreno as a passionate vocalist, songwriter and performer who – with her unique style, natural class, charisma and warm personality – knows how to move her audience.
Starting with a solid base of Americana, Ms. Moreno adds a variety of musical styles: Classic country & gospel, jazz and vintage pop to create her own unique sound.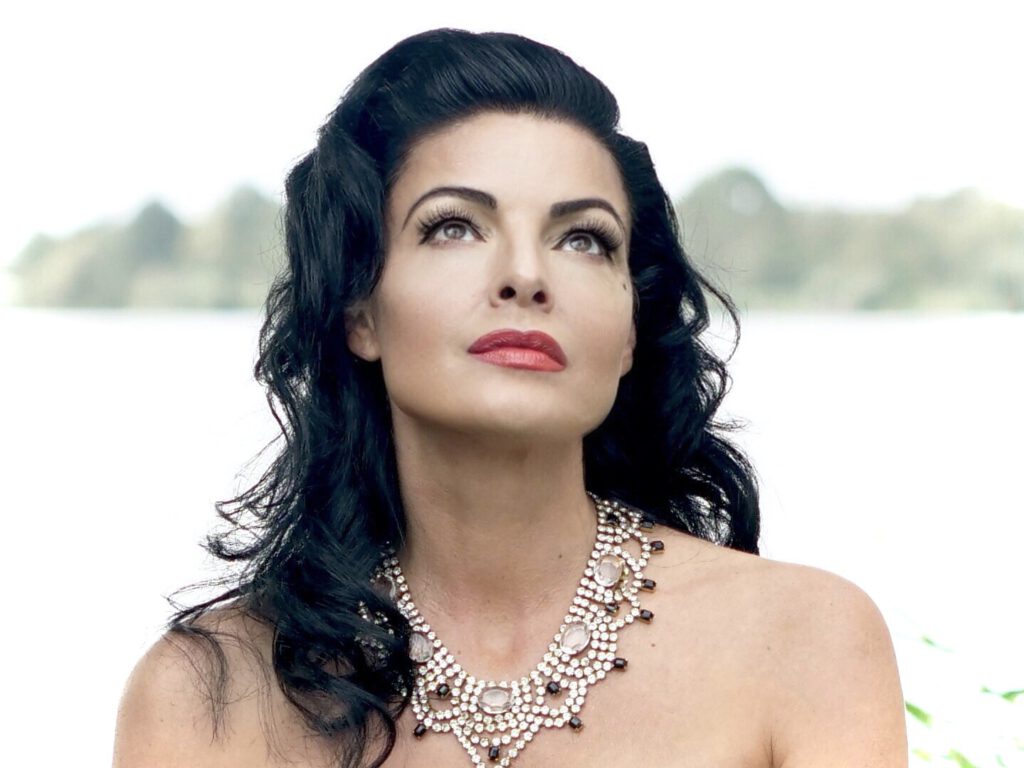 Her show concepts have taken her all over the world, with performances and tours in Europe and America to Scandinavia and South-America.
She's played sold-out residential shows and traveled with succesful theater tours in the Netherlands and Europe.
Sue has worked with many well-known musicians and artists and can be seen & heard with her own jazz combo as well as guesting with a number of big bands and received awards for various stellar performances.
Her vocals can be heard in commercials like Flowerbomb perfume of Fashion House V&R and various themes for Otazu Jewellery. Her music has been used on the catwalk in Paris.
She could be seen in campaigns for the Spanish glamour magazine 'Imagen y Belleza' and Sil USA. In 2014 her Glamour Calendar came out, a collaboration with star photographer Govert de Roos.
Her record debut Dream You (2002) opened many doors allowing Sue to perform outside the Netherlands. Sue's next album Drivin' on the Highway of Love (2004) showcased her own compositions, proving her to be a formidable song writing talent. That same year she contributed to the big band album Night and Day (2004) and one of her tracks, Cry Me a River, made it to the top 10 in South-Africa.
Bye Bye Blues (2006) was a collaboration with Italian guitarist Marco di Maggio. A tour in Italy followed and due to many requests the record was re-released in 2009 with extra songs.
As Sue was working hard on her jazzy lounge-nightclub shows she was noticed by producer Eddy de Clercq who asked her to collaborate with him for his outstanding Music for Catwalks project (2008). The music was performed on huge fashion events in Europe.
Sue has impressed audiences with her charismatic performances during 'the Country Music Hall of Fame' tour throughout the Netherlands and Belgium and at gospelevents in her country.
In 2008 she left for Los Angeles for a concert tour while taking songwriting sessions with studio musicians, some of which were released on One Track Mind (2009), a collaboration with the popular Uk band Jack Rabbit Slim.
In both 2010 and 2011 Sue starred in a European tour with the original bandmembers of Elvis Presley.
A typical indie, do-it-yourself artist, she left for Nashville in 2012 to write & record songs with renowned musicians. The result was her acclaimed album City by Night (2014), featuring much of her own work sung with a different, pure and almost smoky sound, touched with a hint of vulnerability, colored with exotic influences. Shows followed in Nashville and The United States, as well as tours in Europe with the Nashvillians.
In 2016 Sue contributed to an Elvis tribute project called Duets (2016).
And showed yet another side of herself with the release of The Long and Winding Road (2018) recorded with a grand orchestra, released on her own label Heavenly Records.
In 2019 Sue began writing again and set off to record in Memphis, USA. Grammy winners and legendary musicians of Royal and Stax fame have joined forces once again to collaborate with her on these recordings and to accompany her with their unmistakable Memphis Soul sound. How's it going? To quote pianist Lester Snell 'You Got what it takes, girl!' Talk about respect. Says enough, yes?